---
{{item.currency}}
{{pricing}}
---
---
{{item.currency}}
{{pricing}}
{{item.currency}} {{item.normalPrice}}
---
{{item.currency}} {{pricing}} - Out of Stock

Klonte Sout word eersdaags vrygestel, gereed vir jou Kersaankope of jou eie leesbederf gedurende die Kersseisoen.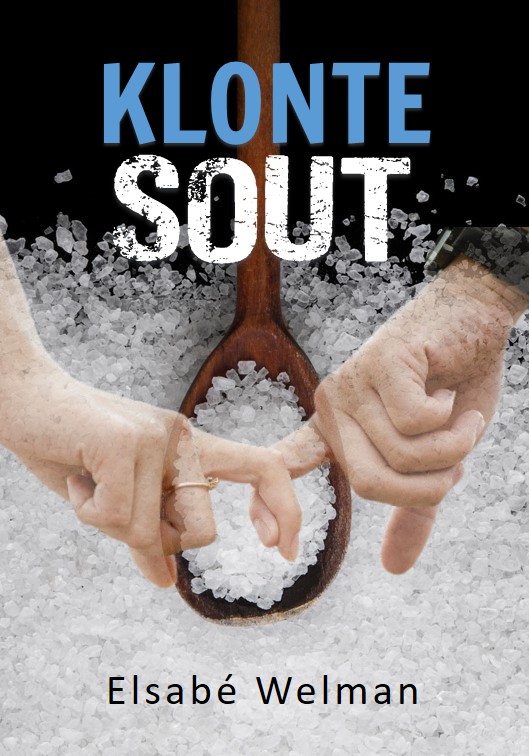 R230 vir sagteband, posgeld uitgesluit
R90 vir e-boek.
Boekhandelaars: Doen navraag by die skrywer vir spesiale afslag.
Vir een hele week van vandag tot en met 11 Oktober, het ons 'n promosie-afslag op Klonte Sout. Kliek hier vir meer inligting.
'n Siektetoestand laat Arno en Orna kinderloos. Sy argeloosheid daaroor verwoes hulle huwelik. Ewald se vrou beswyk aan komplikasies na 'n motorongeluk en laat haar man Ewald en hul baba agter. Wedersydse ondersteuning tussen Orna en Ewald laat die vonke spat. Ewald se niemand-sal-weet-nie word almal-gaan-weet toe Orna aangekla word van moord. Die spanning is ondraaglik en veroorsaak wantroue teen mekaar, veral met verdoemende bewyse op hande. Verskuilde geheime word ontbloot en nie een van die partye weet of hulle die klonte sout kan verteer nie.