Filtervlinder (Naaswenner in kompetisie)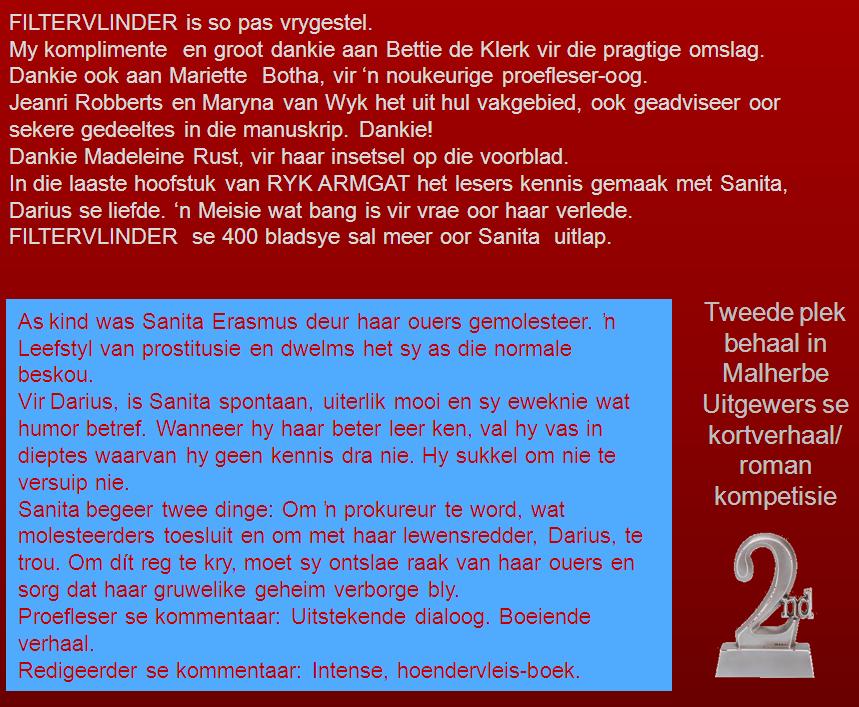 Nog nuuskierig? Kliek op PROLOOG om regtig lus te kry vir hierdie boek.
'n Mooi stukkie terugvoer van 'n leser:
FILTERVLINDER is baie intens, glad nie die ligsinnige liefdesverhaal wat ek verwag het nie! Dit is lekker om vir 'n slag 'n verhaal te lees wat oor meer gaan as "boy meets girl" en ook nie net een hoofstuk van 'n karakter se lewe dek nie maar eerder die leser op 'n reis vat deur hul kinderjare, moeilike uitdagings, die kinderjare van hul ouers, en bietjie meer "vleis" het.
Ek het van Irene se storie gehou en ek is bly dat sy uiteindelik haar weg gevind het. Ek dink dit is omdat ons almal tog 'n Irene ken of al geken het.
Ek het veral Sanita se rou eerlikheid geniet waar sy amper aan die einde van die verhaal uitvind sy is swanger. Mens voel sommer haar paniek aan en ek identifiseer nogals met die paragraaf waar sy vir Darius sê hy is opgewonde maar sy is poep-bang! Het lekker gelag vir dit.
Die storielyn is bindend. Ek hou van die begin waar die leser moet wonder of Sanita dalk regtig haar eie pa vermoor het en hoe Darius dit ontrafel. Dit is slim geskryf.
Beskikbaar by:
Outeur Amazon Smashwords Malherbe Uitgewers Kantoormeubels Lichtenburg 018 632 6605